Computer file recovery software
If you lost or deleted by mistake some files on your computer, or even folders - don't desperate. Below is well known computer file recovery software - Complete File Recovery
It will help you recover ANY deleted file on your PC
- photo files, movies files, music and video files, graphics files (.jpg, .jpeg, .png, .avi, .asf, .mp3, .mp4, .png and others)
- document files, spreadsheets (.doc, .docx, .xls, .mdb and other files)
- computer programs and games (.exe, .bin, .bat and others) and many many other deleted files.
Complete File Recovery is Universal computer file recovery software. .

To recover deleted files on your computer just download Complete File Recovery software and follow steps below:

Complete File Recovery 1.5 (Size: 2.5 Mb)
Recover computer files with Complete File Recovery
Download and run Complete File Recovery (cfrecovery.exe). It's portable - this means you don't need to install it, you only need to run it and start recover your deleted files. You can even copy it to your USB flash drive and run it from there on any PC where you need to recover files.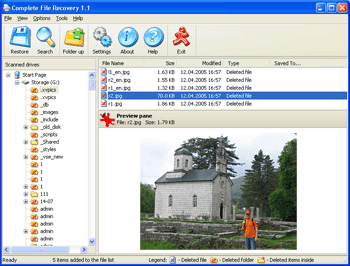 Next step - to select file types to search on your hard drive. if you want to search for music files from our digital mp3 player, check Search music files. If you need to recover lost photos - check Search images and photos or you can Search all deleted files on your disk.
If you need to define what deleted computer files to search - click Change... to open the Deleted File Types window and check or uncheck the file types to search, for example - you want to search and restore jpeg, avi and asf files, and don't want to search for png file types. Sometimes this make the search process faster, if your hard drive contains many deleted files.

After that press Start Search button and Complete File Recovery will scan your disk or flash card for computer files files and show you a list of deleted files that are ready to recover. For many file types you can preview found deleted files - images, photos. So you will know if you can restore that file.

The last step - file recovery - right click the file and choose Restore file... to save it. Don't save restore files on the same disk where you deleted them. That's all. File recovery process successfully completed and you restored your deleted computer files.

Complete File Recovery can recover files on all memory flash card types including Memory Stick, CF, SD, MicroDrive, MMC (MultiMediaCard), MiniSD, MicroSD, SDHC, CD, DVD, floppy and more. Als you can restore files not only on your computer but even on your mobile phone, digital camcoder or photo camera or Sony PSP.

Download Computer file recovery and restore all your files.