How to recover deleted music
Complete File Recovery is one of the best utilities to recover lost or deleted music files.
Most of MP3 music players use flash cards for storing music files. Some of them (like iPod) use internal micro hard drives. Complete File Recovery supports all MP3 players, that displayed as a drive letter when connected to your PC.
If your mp3 player is not displayed as a drive letter when connected to your PC you can use a flash card reader, and still have a possibility to recover your deleted music. Just insert the flash card from your mp3 player into the card reader, connect it to PC and run Complete File Recovery scan for the drive letter, corresponding to your card reader.

To recover lost music download Complete File Recovery and perform our music recovery tutorial below:

Complete File Recovery 1.7 (Size: 2.5 Mb)
Recover MP3 music files with Complete File Recovery
Connect your MP3 digital player to PC and start Complete File Recovery. Select the drive letter corresponding to your connected mp3 player.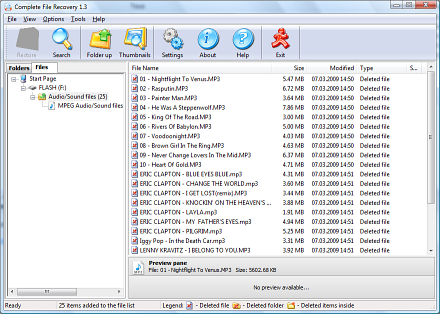 Next step - to select file types to search. We want to do music file recovery from our digital mp3 player, so check Search music files.
Also, you can choose what deleted music files to search - click Change... to open the Deleted File Types window and check or uncheck the file types to search, for example - you wan to recover mp3, wav, wma,ogg, m3u and asf files, but do not want to search for mid or other file types. Sometimes this make the search process faster, if your mp3 player contains many deleted files.

Now press Start Search button and Complete File Recovery will scan your digital mp3 player or flash card for deleted music files and show you a list of deleted files that are ready to undelete.

To recover file - right click it and choose Restore file... to save it. That's it. Simple file recovery process successfully completed.

Complete File Recovery supports music recovery on all memory flash card types including xD Picture Card, CF (Compact Flash) Card, Memory Stick, SD (Secure Digital) Card, MicroDrive, MMC (MultiMediaCard), SmartMedia Card, MiniSD, MicroSD, SDHC, CD, DVD, floppy and more. You can recover mp3 and mp4 files on your mobile phone or smartphone memory card.

It works with digital mp3 players of all major manufacturers including Apple (iPod), SanDisk (Sansa), Philips (GoGear), Samsung, Zune, Insignia, iRiver, Creative (Zen), LG, Sony (Walkman) and more.